The Mother's Pride School, Dhemaji has been established in 2008 at 1 no. Nareng Survey Village, Aradhal Panchayat of Dhemaji District. It is approximately 2.5 km away from Dhemaji main town. There is an all weather road connecting main town and other parts of district. The present educational scenario has compelled us to redefine the meaning of education from the in vogue conventional definition. Today a school has become a centre of activity with all the possible facilities to foster all round development of a child. Gone are the days when the pupils were thrown in to an atmosphere of crowded classroom, Traditional method of teaching, lack of creative orientation, Unhealthy surroundings and incomplete communication that produced not a learned and potential citizen in the modern era. The educated one proved himself neither beneficial to the rapidly developing scientific world, nor posses the capacity to compete in the true sense. Hence "DHEMAJI EDUCATION ECONOMIC DEVELOPMENT SOCIETY" has given birth to 'MOTHER'S PRIDE SCHOOL, DHEMAJI' with a new concept of education with all the essential for harmonius development of child's all round development. Mother's Pride School, Dhemaji provides various facilities to students like- Sufficient play ground for various games like Football, Volleyball, Kabaddi, Kho-Kho, Badminton etc. for finding out their talent, to bring discipline among them, to maintain good health as well as to create social contact. various competition  are held to improve their talent and knowledge like Quiz, debate, dance, music, drawing, art & craft etc. There is well trained and dedicated teaching staff to guide and monitoring various academic and co-curricular activities. Audio-visual class facilities is provided to students for better understanding and learning rather than traditional method of reading and learning. 'Yoga' is taught to students regularly for their mental, physical and spiritual development. Eminent personalities in different field like Social activist, educationalist, administrative officers, doctors, cultural activist, litterateurs etc. make frequent visit to school and have exposure class with students to get deep knowledge about other field. The whole process is taken to foster all round development of child.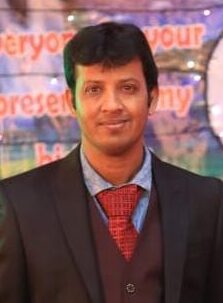 Everyday at the Mother's Pride School is like a blessing with the active students and talented staff members around.
Bijoy Das — Managing Director
Mother's Pride School at a Glance
The "MOTHER'S PRIDE SCHOOL" has been established with a vision to shake away the shortcoming of all sorts and enmeshing the suitable learning environment and activity that may encompass the new concept of education to the optimum level. Here the great education T.P. Nunn's comment – "Education is the complete development of the individuality so that he can make the original contribution to human life according to his post capacity" bears much significance. The epithet "complete development of the individuality" implies harmonious nurturing of mind, body and soul, which demands skillful handling and acute provisions. The " MOTHER'S PRIDE SCHOOL" pledging for the quality education emphasizes on those aspects and extends full support with the provision for conducive classroom environment, emphasis on value-education, yoga, religious surrogations, various games, triangular approach (Teacher—Pupil—Parents) dynamic and potential teachers, healthy and hygienic habits, multiple recreational options etc. The purpose behind these all is to create socially, morally and intellectually, sensible human beings and produce dynamic citizens for the nation in particular and for the world in general.
'Mother's Pride School, Dhemaji' has been established with a mission to cater the need of young generation of this area by removing the short comings of traditional educational system. It has been given emphasis to creativity that is learning by doing. It follows the triangular approach i.e Teacher —–pupil—–parent to bring out best in them. This systematic approach is to imbibe the juvenile and universal brotherhood among all the human beings and foster their sense perception to appreciate the aesthetic values of those objects surrounding the child. It endeavors to lead the child to the enlightened path of knowledge where they can overcome the baseless thin demarcating of caste, creed, community and religion to realize the heavenly bondage among all the human beings.
Affiliated to CBSE, Delhi, bearing affiliation no. 230189 dated 15-06-2020.
School Managing Committee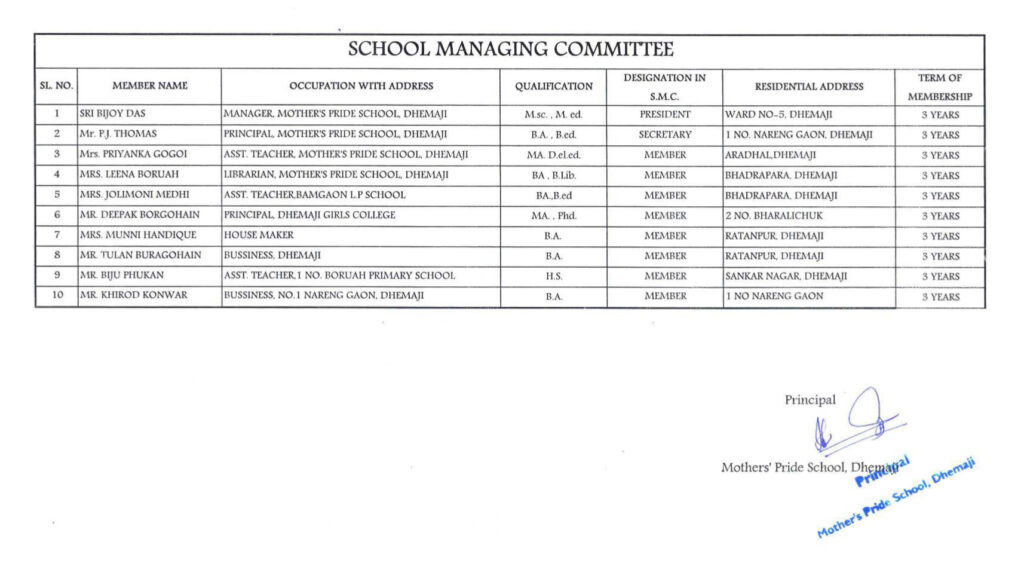 "Sustainable Education Program Award for best project from the State"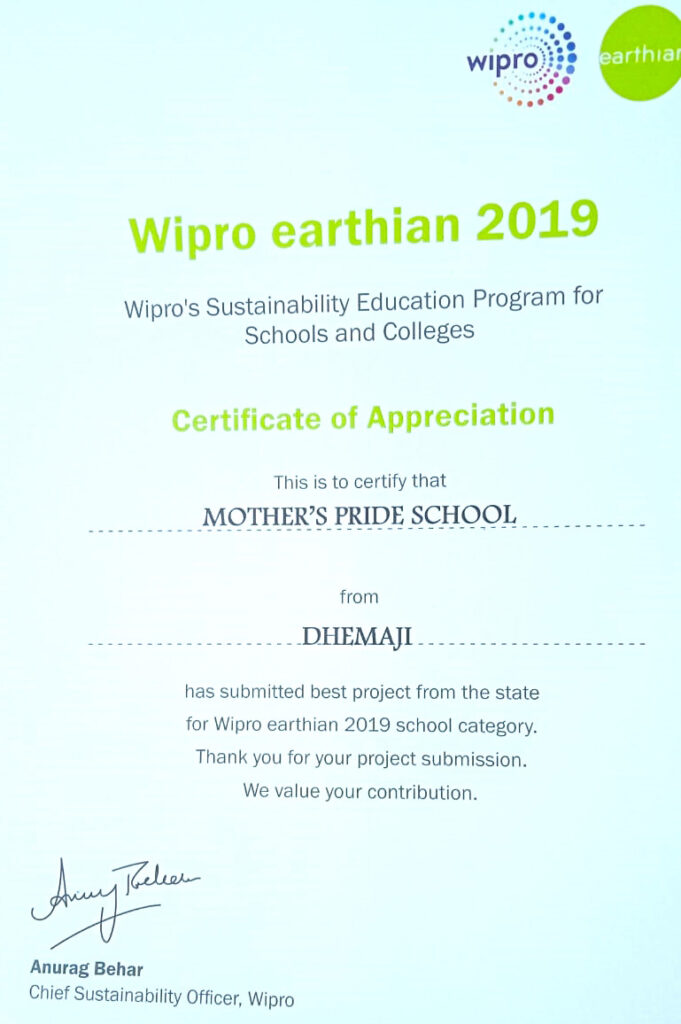 | Name of our Guide | Short Portfolio |
| --- | --- |
| Dr. Budhindra Baruah | Ex-Principal, Dhemaji College |
| Mr. Hirumoni Baruah | Principal, Central College, Bordoloni |
| Mr. Dipak Borgohain | Principal, Girls' College, Dhemaji |
| Mrs. Nivedita Borah Handique | Subject teacher, Dhemaji Girls' Higher Secondary |
| Mr. Nirmal Kumar | Educational Guide |
| Mr. Deva Kakati | President of the society DEEDS |